Certified Behavioral Consultant
Awarded to Sayan Dutta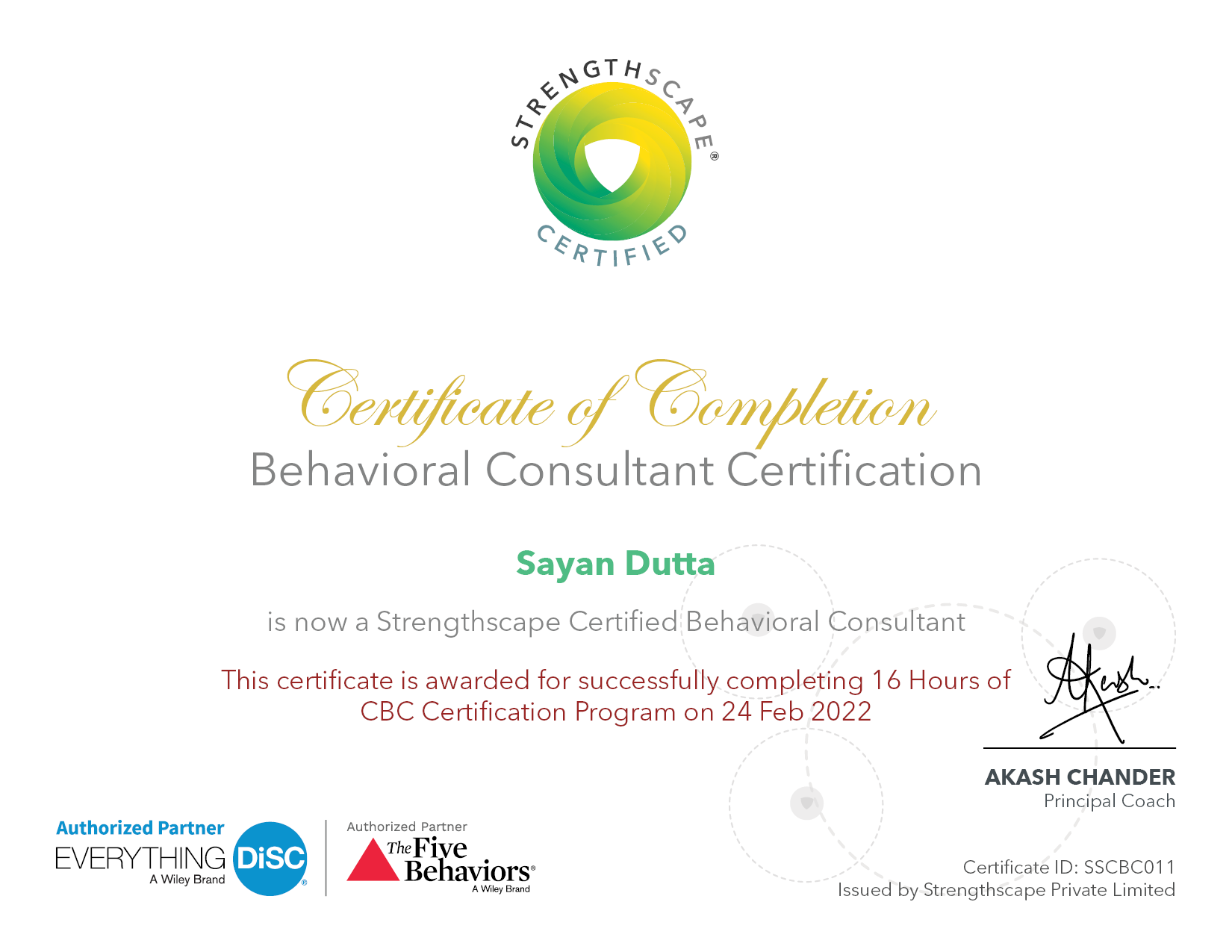 Behavioral Consultant Certification by Strengthscape is designed to prepare individuals to work with businesses, leaders and managers to create a work environment that enables superior performance. Throughout the 16-hour program, participants explore the role of a behavioral consultant in a corporate environment, as well as the latest concepts associated with learning, behavioral change and culture.
Behavioral consultants leverage the latest research in the field of neuroscience and human behavior, as well as practical experience of working through team dynamics and business objectives, to successfully work with both teams and individuals. Utilizing psychological assessments, such as DISC, and utilizing some of the most comprehensive models in learning and development, they are qualified to deliver high impact behavioral change projects.
The Everything DiSC portfolio by John Wiley & Sons, Inc. is based on four basic behavioral styles. It is designed to help professionals at all levels gain a full understanding of the prevailing behavioral priorities that determine interpersonal relationships, effective communication, and collaboration in the workplace. In the portfolio, there are assessment tools designed specifically for managers, leaders, and sales professionals to provide insight into their roles. Furthermore, personalized assessments can be used to provide behavioral insights on how to decrease conflict and improve emotional agility at work.
Patrick Lencioni, a New York Times bestselling author, and the powerful Everything DiSC assessments by John Wiley & Sons are combined to provide a breakthrough profile christened Five Behaviors that prepares individuals for successful teamwork. This category includes computer-adaptive assessment tools that are not restricted to intact teams but can be used across the enterprise to help employees become more effective team members.